Exclusive to N.J. Geddes Fine Jewellery
We are so excited about our latest unique creation! This rare 66 carat vivid violet/pink kunzite pendant necklace really has the 'wow' factor.
Be the first to try on and view our kunzite necklace by booking an appointment with Neil Geddes on 01937 844 990.
Kunzite, Diamond & Rose Gold Pendant
We've always said that we do things differently at N.J. Geddes Fine Jewellery, as we start with the perfect stone and then build our design around it. And that's exactly what we did here! Neil set out to source an unusually large kunzite gemstone of the highest quality for its hot pink colouring, rarity and femininity. After discovering this incredible 66ct gemstone he worked with his designer to create a one-of-a-kind pendant necklace.
We're delighted to bring to you the finest vivid violet/pink 66ct kunzite made into a unique pendant in 18k rose gold. Accompanied by 2.5cts of round brilliant cut diamonds uniquely wrapping the face of the kunzite with a bow on top, continuing to fabulous diamond swirls on the rear.
Glamour all the way
The theme for the design was glamour, femininity and fun – and this exquisite necklace certainly delivers on all counts. With its enchanting colour, pretty diamond and rose gold bow swirls and amazing attention to detail, this piece has a personality as big as the stone.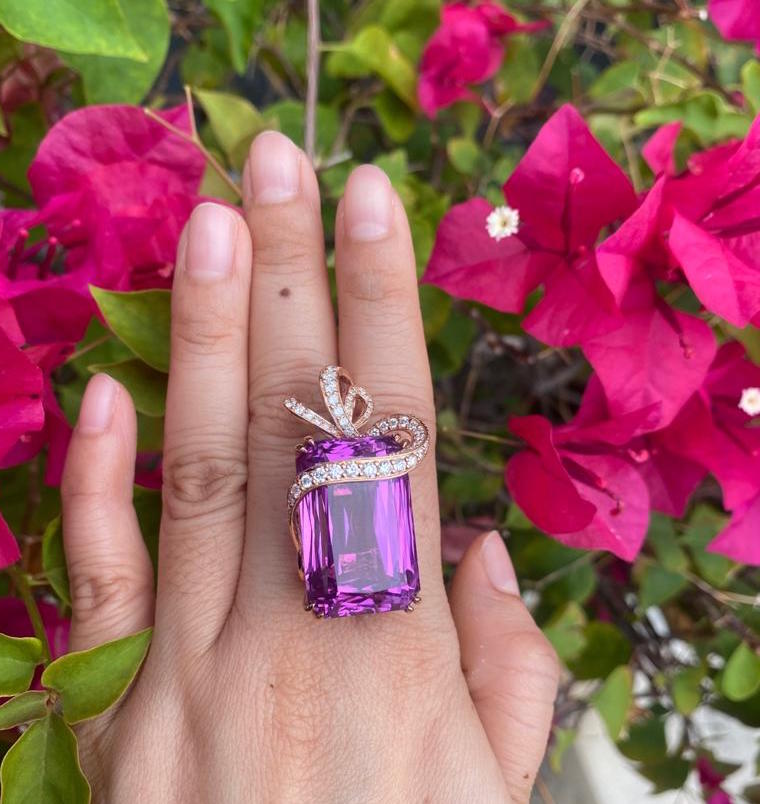 If you've got an evening event, special party or perhaps Ladies Day at Ascot, then this unique accessory would elevate any outfit, plus it's a real conversation starter. And because it's a bespoke design, you won't see anyone else with the same necklace.
Can you keep a secret?
The back of the pendant holds a secret just for its owner – a beautiful intricate design of diamonds and rose gold. Take a look at our video below for a glimpse of this very personal touch we've added to the necklace.
Tiffany & Co. Legacy Jewel
If you haven't heard of kunzite before, you're not alone. This isn't a jewel that you'll see on the high street, and even in boutique jewellers, you'll find that the colour, size and quality of kunzite is variable.
Kunzite was originally introduced to the world by Tiffany & Co. in 1902. Their famous gemologist Dr George Frederick Kunz explored the four corners of the world searching for the most exotic gemstones for Tiffany. Then, whilst in California, a lilac-pink stone, which was a variety of spudomene, was delivered to Kunz. A fellow gemologist named the stone 'kunzite' and the rest, as they say, is history. Tiffany & Co. continue to create kunzite jewellery to celebrate the man whose lifelong passion was beautiful gems.
View the Kunzite Pendant
If you would like to arrange an appointment to view our kunzite pendant, either at the boutique in Boston Spa or a location of your choice across the UK, please get in touch with Neil Geddes.
Stay informed of new jewellery collections via our mailing list.