So, you've just bought the most fabulous piece of jewellery or a watch that's an absolute classic. All that is on your mind is where you will wear it and how good it feels to own such a beautiful piece. The last thing you're thinking about is insurance, right?
Nobody likes insurance, whatever it is for, even your treasured collection of jewellery, family heirlooms or that rather expensive watch. However, having your jewellery and watches valued is a necessity – if you don't then you are at risk financially.
Why get a jewellery valuation?
Put simply, having a jewellery valuation and getting fully insured gives you the peace of mind that you can happily wear your jewellery wherever and whenever you want. Knowing, in the unfortunate event of it being lost, stolen or damaged, that you are covered.
Valuations are essential for fine jewellery, antique pieces or bespoke jewellery – all of which is unique and requires expert knowledge to ensure it is valued correctly. It's not just heirlooms that need insuring though, any piece that costs more than £1,500 normally won't be covered on your insurance.
A jewellery valuation can be used for many reasons, including:
To claim on insurance in the event of loss, theft or damage
To prove that it is rightfully yours
When selling privately or via auction.
In the event of a loss, the responsibility falls on you to prove you are the owner of the jewellery when making a claim. Valuations establish you had the pieces at the time of the valuation and their correct replacement value for insurance purposes. If you don't have a valuation, insurance companies often use claims management companies to try and ascertain the value of the jewellery after it has gone. This is not a pleasant process and can often result in lower compensation.
Specialist jewellery valuations
N.J. Geddes Fine Jewellery can assess and value all jewellery and watches. We provide a written valuation report, which acts as a legal document for insurance purposes.
Within the report we include photographs and detailed descriptions of each piece of jewellery, plus accurate valuations. We are able to provide comprehensive reports confirming how the value has been determined which, for example, could include New Replacement Value (NRV) if the jewellery was acquired recently from a jewellery shop. However, it could be a valuable antique piece, and so an Antique Replacement Value (ARV) would be detailed.  This is invaluable in the unfortunate case of jewellery being lost or stolen – both for identifying jewellery and for claiming to replace it.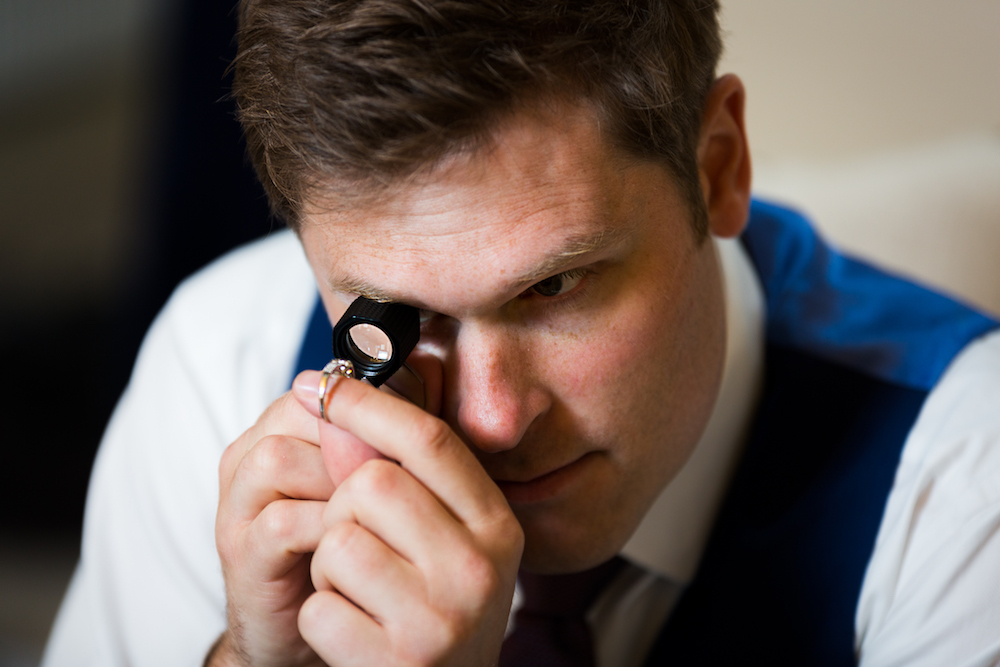 N.J. Geddes Fine Jewellery valuers are members and indeed fellows of the Institute of Registered Valuers, which is part of the National Association of Goldsmiths. We are an approved Jewellery Valuation Partner for a large Lloyd's of London underwriters.
How often should I get my jewellery valued?
The value of jewellery does fluctuate, as the price of gemstones and precious metals is governed by supply, demand and other influences such as trends.
It is estimated that more than 60% of all jewellery is underinsured!
We recommend you get your jewellery valued at least every two years but check your insurance policy to see if you need an annual valuation. Some insurers state that for higher value pieces you must have a valuation every year – otherwise the policy may not be valid (see The Guardian).
Having your jewellery valued is a good opportunity to check for any signs of wear or damage. We can then identify if repairs are required and prevent costly incidents such as losing a gemstone. We can also clean your jewellery so that it comes back to you with renewed vigour and vibrancy.
Arrange a jewellery valuation
Make sure that insurance doesn't become a headache – contact us for more information on our jewellery valuation reports.