Exquisite fine jewellery is created to be worn and adored by its owner. However, many women own jewellery that holds great sentimental value, but they just don't wear it, so it remains locked away and unused.
When clients come to us to have a piece of jewellery redesigned it is often due to a mismatch in style or function, frequently from an inherited piece. Sometimes the jewellery has been damaged or it simply doesn't fit anymore (or never has).
Jewellery remodelling is an ideal solution to these problems. You can maintain the heritage and sentiment attached to the jewellery but create something that you wear and love.
How to redesign jewellery
With a custom jewellery conversion, the only limit is your imagination (and your budget). We can keep your favourite parts of the jewellery and breathe new life into them, with everything from a simple update to a full redesign and change of purpose.
Perhaps you inherited a family heirloom that you've never worn as it's too traditional or too extravagant for your taste. We can lift the original gemstones and design a unique, wearable and beautiful piece of jewellery.
It might be that your diamond earrings aren't 'you' anymore or they feel outdated – we could transform them into a diamond ring. Perhaps you used to like yellow gold 15 years ago, but now you like white or rose gold. Remodelling the jewels (and adding new ones) into a new piece that works for you now is a cost-effective way to create a new family heirloom that can be both worn and passed through the generations.
Jewellery redesign – inspiration
To give you a little inspiration for what can be achieved with jewellery conversions, here are some examples of our creations and their proud owners' reactions.
Sapphire engagement ring – remodelling
Tracy came to us with a sapphire engagement ring that was bought around 25 years ago. Whilst the ring had been well worn and loved, the sapphire was encased by numerous claws and wasn't being shown off to its best advantage.
To enhance and refresh the ring we lifted the sapphire out, cleaned it up, added a halo of diamonds and changed from a yellow gold to 18 carat white gold.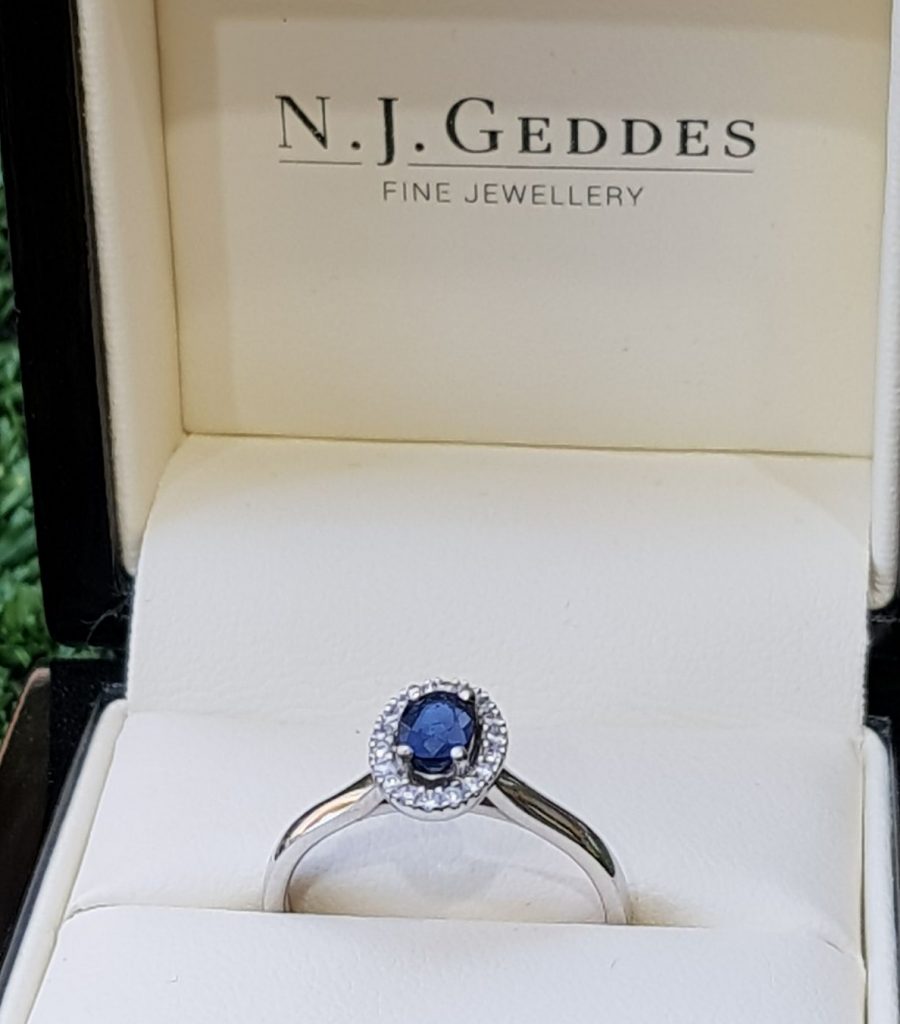 "After losing some stones from my engagement ring, and after 25 years of marriage, I was very reluctant to replace my ring with a new one. After meeting with Neil, discussing with him the sentimental value of my original ring, he very cleverly came up with a new, modern design. I'm absolutely thrilled, I have the original stone, in a new setting, with the sentiment of my original engagement ring."

Tracy
Trilogy diamond ring – redesign
Gaynor had a trilogy diamond ring of traditional design that no longer suited her personality and style. She wanted to reuse the diamonds to create a completely different ring that was contemporary and individual.
Working together we designed a bespoke long finger ring. The ring used the existing diamonds and we added diamonds from a pair of drop earrings she no longer wore. This kept the sentimental value of the trilogy ring, but it was transformed using rose gold and a striking swirl design.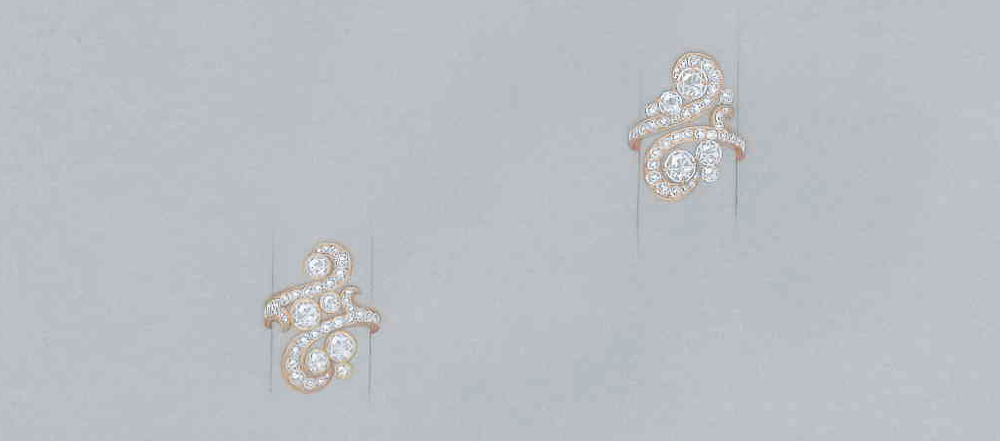 The finished piece is unrecognisable to the original trilogy ring and is a true one-of-a-kind.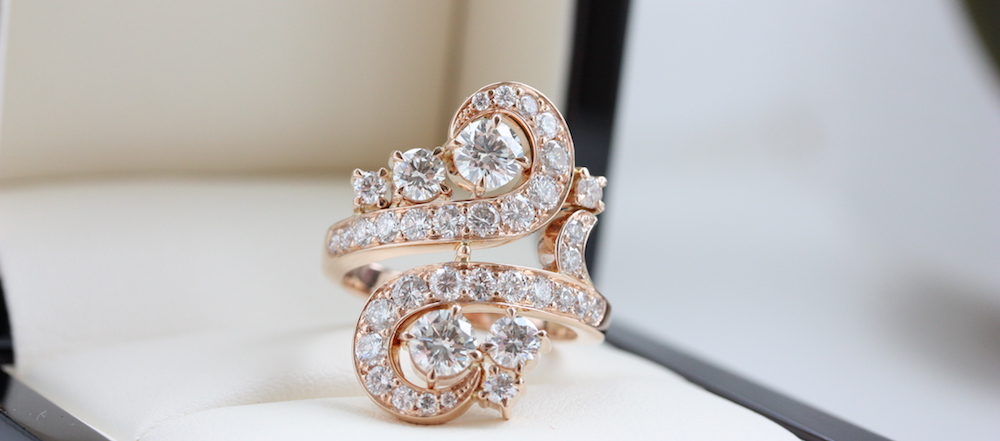 Jewellery remodelling process
Step 1 – Consultation
Meet with Neil Geddes to examine the jewellery and discuss what you like and dislike about it.
Neil will find out more about your style, what you want to create and when you plan to wear it.
Together, you'll discuss ideas for how to redesign your jewellery and will agree a budget to do this.
Step 2 – Review
On your second meeting with Neil, you'll be shown sketches of the unique design, drawn by our award-winning designer.
These designs will allow you to visualise your creation and make any last minute tweaks.
Depending on the scope of the remodelling, we may have an additional step where you are presented with a hand-painted gouache drawing of how the jewellery will look.
Step 3 – Love it!
On your final meeting you will collect your bespoke jewellery and you can start to wear and enjoy it …
Find out more about how we create bespoke jewellery.
Transform your family jewellery
If you would like to re-imagine a piece of cherished jewellery, get in touch with Neil Geddes for a private consultation. We are available to meet anywhere in the UK at your home, place of work or in our boutique in Yorkshire if you are local.