The Colombian emerald is one of the most enchanting jewels; the finest specimens radiate a sort of otherworldly glow that has a depth of interest much greater than diamonds. Due to their slightly more fragile nature though, larger emeralds of a high quality are rare. And that is precisely why we are rather excited to have acquired an exquisite 11.5 carat Colombian emerald (pictured above) from a private client collection.
Certified by the Gemmological Institute of America (GIA), this piece of raw beauty is currently being set in a platinum ring along with trilliant and round diamonds. The shape, colour and romance of the jewel brought back to us memories of Elizabeth Taylor's engagement ring, and this is where we began the design process. We thought we'd share our initial designs with you along with some of our passion for this mesmerising gem.
Colombian Emeralds
Colombia has been the primary source of the world's most beautiful emeralds for hundreds, if not thousands, of years. Emeralds from Colombian mines (such as Muzo and Chivor) are said to be the purest due to the unique sedimentary host rock – the only place in the world where emeralds are deposited in this way.
It is believed that native Indian tribes mined emeralds as early as 500 AD, but it wasn't until Spanish Conquistadors invaded in the 1500s that the rest of the world got to experience their beauty. Since that time emeralds have been consistently viewed as one of the most valuable jewels on the market.
What to look for in an emerald
Emeralds vary greatly in size, colour, saturation and tone. Generally, deep green is considered the most valuable colour due to its scarcity – deep/vivid emeralds are found only in the deepest mines in Colombia.
The 4 Cs
When buying an emerald, it is important to consider the 4 Cs:
Colour – is it vibrant? Is there a deep, rich tone? Is there a strong, vivid colour saturation?
Clarity – emeralds with better clarity will fetch higher prices, however, you will expect to see inclusions (or imperfections) with emeralds. This is natural but check where they are in the emerald by viewing a magnified picture of it.
Cut – emeralds are mostly cut symmetrically to produce optimum colour. There are also round, oval and pear cuts, but these are rarer and consequently more expensive.
Carat – the weight of the emerald determines the carat (as with diamonds), the bigger the carat the more expensive the emerald – assuming it is also high-quality in the other 3 Cs.
Design
Our Colombian emerald reminded us of the jewel in Elizabeth Taylor's engagement ring from Richard Burton (given to her during the filming of Cleopatra in 1962). Her 7.4 carat square emerald was surrounded by 12 pear shaped diamonds totalling 5.3 carats. We used this loosely as our inspiration during the design process, as you can see from two of our initial design options below, Elizabeth's style on the left and a more contemporary on the right using marquise diamonds.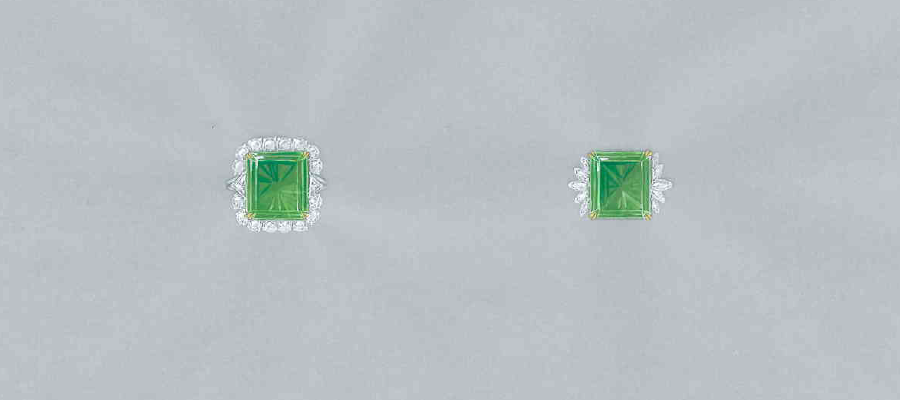 The design we eventually selected though, is more timeless and classic. It features the square cut 11.5 carat emerald with trilliant shaped diamonds surrounded by rounds (totalling approx 0.85 carats)– see design below.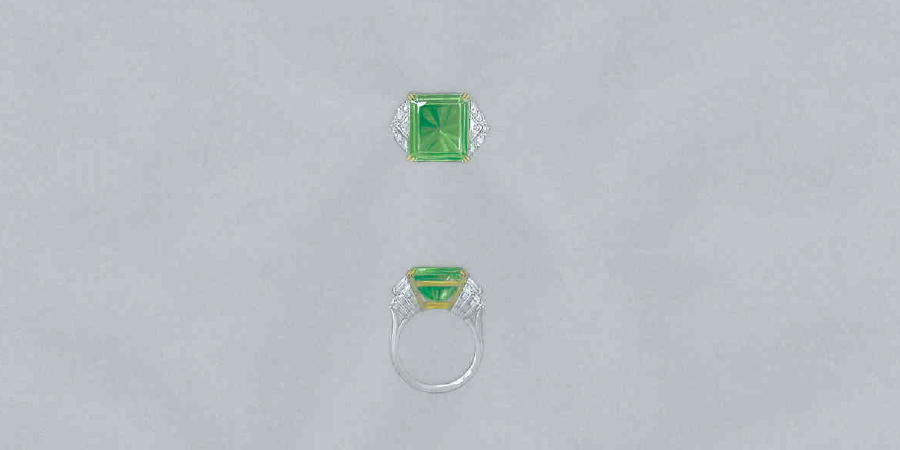 Our award-winning master jeweller is currently setting the ring using the finest, traditional techniques.
Investing in emeralds
As with many fine jewels, emeralds can be a strong investment piece. The trend in auction houses in London, Geneva, New York and Hong Kong is a steady increase in value for fine emeralds. The larger and better quality jewels don't come to market that often and are subsequently highly sought-after.
To ensure you are investing in a quality jewel, make sure the emerald is certified (for example; by the Gemmological Institute of America, GIA, Gubélin or SSEF). With a significant investment piece, ensure you have it independently valued (N. J. Geddes Fine Jewellery offers this service). Our finished ring will be insurance-valued and it will be priced enabling clients to acquire a fabulous jewel that offers fantastic value.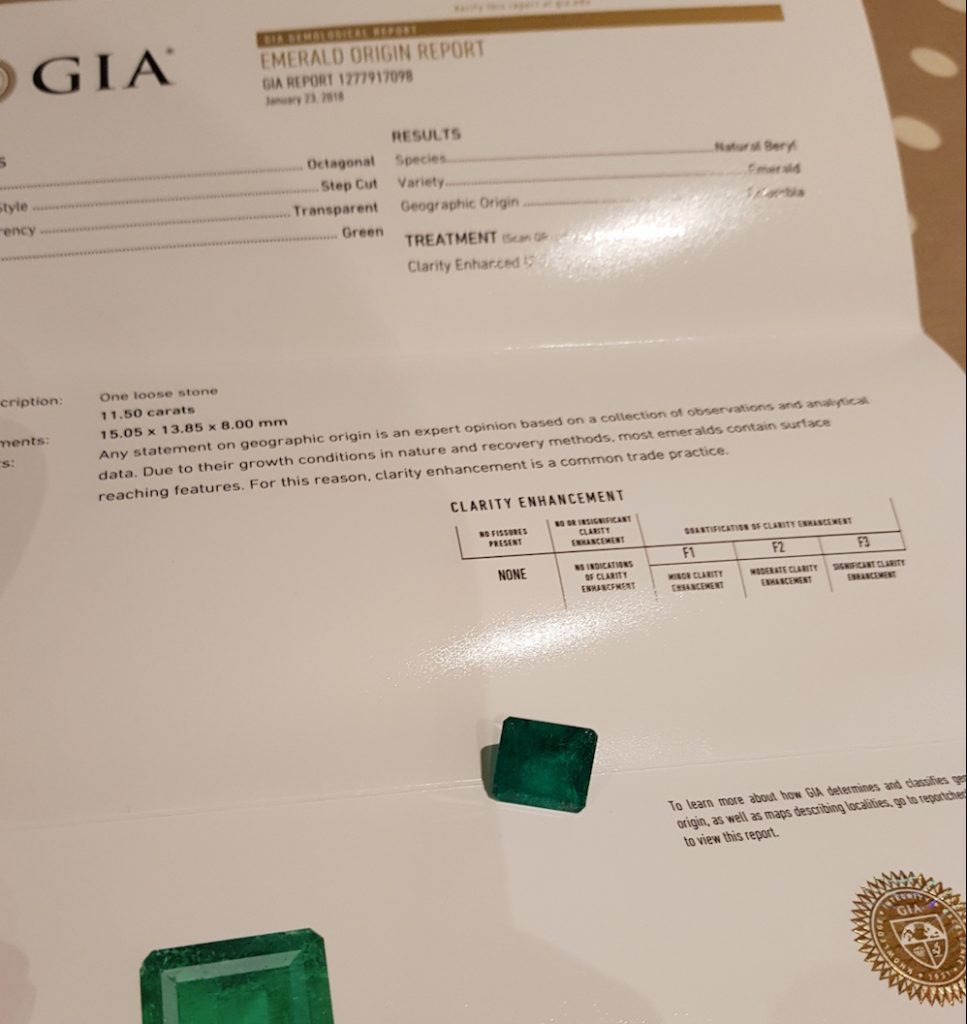 What next
Our unique 11.5 carat emerald and diamond platinum ring will be revealed in the next 3 – 4 weeks and will be available to purchase exclusively via N.J. Geddes Fine Jewellery. If you would like to discuss your interest in this piece, please get in touch with Neil Geddes directly to arrange an appointment.